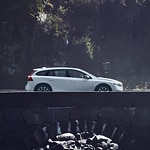 If you are interested in modern design at a price point that is affordable for the average household, the Volvo V60 Inscription might be for you. The Swedish design team for the Inscription has captured all of the beauty of simplistic and sleek Scandinavian design into this popular midsize sports wagon. Rich dark colors that contrast with chrome features set this wagon apart.
The all-black finish of leather and dashboard makes an impression when you view the Inscription. Standard Harmon/Kardon audio provides you clear and clean sound when you are relaxing to your favorite tunes. The chrome details on the exterior finish standout on a wagon at this price point. Each of these features gives you a luxurious feel when you drive the Inscription.
If all of these features leave you interested in seeing an Inscription in-person, you are invited to reach out to Century Volvo Cars today for a test drive.