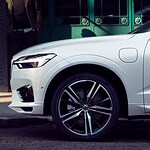 If you want a vehicle that offers a spirited driving experience, the popular Volvo XC60 R-Design should be on your list. This performance-focused luxury vehicle is everything you would expect from a Volvo.
With safety as a top priority, the lane-keeping aid in the Volvo XC60 R-Design helps by detecting lane changes that were not intended. This feature leverages a camera and innovative technology to determine if an alert is necessary.
One look at the distinctive five-spoke 19-inch alloy wheels on the Volvo XC60 R-Design is all a takes to recognize that adding them to this SUV was a wise decision. This is an attractive vehicle that's made all the more beautiful with these special wheels.