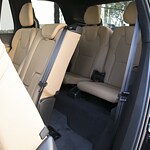 Volvo is well-known for making luxurious vehicles that can be relied upon, but it seems that sometimes people still underestimate their new vehicles. The Volvo XC90 is an excellent example of Volvo's continuing engineering ingenuity. This luxury crossover SUV is very popular here at Century Volvo Cars, especially once we let people know about the vehicle's performance features.
The XC90 was definitely built with performance as on of its key goals. This vehicle comes with standard all-wheel drive to make its handling and overall drivability that much easier. It also comes with standard drive mode settings, which allow you to easily adjust your Volvo to drive well on any surface, be it snow, sleet, mud, or sand. These performance features alone definitely put the XC90 past the average crossover.
If you're eager to see the XC90 in action, then come test drive one here at Century Volvo Cars! Our team would be delighted to help you learn about this impressive vehicle.