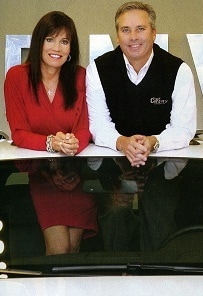 Welcome to the Century Automotive Group
The 40-year-old Century Automotive Group has always been in the "people business" and has a rich history of both family and employee bonds. From the third-generation dealer and president Tracy Jones to the tight-knit body of employees, Century realizes the importance of employee relations as the driving force behind customer relations. In 1969, John H. Shields II came to Huntsville to open Royal Chevrolet, following in the footsteps of his father, the CEO of Superior Motor Coach. Mr. Shields soon added the BMW and Isuzu franchises before selling the Chevrolet franchise and purchasing Stockton Buick in 1981. Since then, the business has always looked to acquire superior lines and added Volvo in 1983, Jaguar and Land Rover in 2003 and Porsche in 2005 to become Century Buick, BMW, Volvo, Jaguar, Land Rover and Porsche. With the most luxury franchises under one roof in North Alabama, Century is also excited to provide the community with the addition of the Fisker franchise, a premium plug-in hybrid electric vehicle, in early 2011.
After becoming a CPA while working for Price Waterhouse in Houston, Texas, President Tracy Jones came to work as the controller for Century in 1988. General Manager George Jones joined the company in 1989 and brought his extensive marketing background to the organization. Tracy's accounting expertise and George's marketing skills, coupled with Mr. Shield's automotive wisdom, created an innovative approach to the automobile business. Their emphasis on employee enthusiasm translated into customer satisfaction and helped to insure the future of the organization. Tracy became president of Century in 1993 upon Mr. Shield's retirement and has led the organization to win many prestigious awards in the industry, including the 2007 TIME Magazine Quality Dealer of the Year Award. In addition, the organization has sought to lend a hand to its supportive, growing community and has given back by participating in various fund raising events such as BMW's Ultimate Drive ® for the Susan G. Komen Breast Cancer Foundation.
The People Business
Century's success begins with its focus on the people who work here. Century strives to bring together a group of employees to form an outstanding performance team. We manage our business so as to earn the respect, cooperation and heart-power of our employees. If we take care of our employees, our employees will take care of our customers. In turn, they earn respect from the community and lifetime relationships with our customers. Century's long-term, tenured employees are proof that we foster a committed environment, with 37% of our employees having been with us for over 10 years.

Century prides itself on repeat and referred customers. The rewards have earned Century the honor of leading the industry in customer satisfaction, with all of our franchises receiving above-average CSI (Customer Service Index) scores. As president of the Century Automotive Group, Tracy strives for expanded quality of products that are priced, sold and serviced with competence, honesty and integrity. With heart-felt commitment to every step of your car-owning experience, it's easy to see why here at Century, you'll notice the difference.
Our Core Values
Exceptional Customer Service
Super Bowl Performance
Extraordinary Team Attitude
Eagle Employees:
Enthusiastic
Attitude
Go Above and Beyond
Loyal
Ethical
Century Automotive Awards:
The Century Automotive Group
2007: Tracy Jones was selected as the 2007 Dealer of the Year by TIME Magazine. As the TIME Magazine Quality Dealer Award winner, she was the first Alabamian and first female to win the most prestigious award in the retail vehicle industry.

watch the Time Life Award presentaion here:

Dealer of the year award 


2002: Awarded the "2002 Alabama Retailer of the Year" award by the Alabama Retail Commission

1999: Awarded the "Small Business of the Year" award by the Huntsville Chamber of Commerce
Century BMW
1996-1998: Received the "BMW Presidents Club" award based on CSI and market share

2000-2005: Received the "BMW Center of Excellence" award for six years in a row

2003: Ranked number one for CSI in the country for the BMW sales volume group
          #1 BMW dealer in the country for Customer Satisfaction in 2012
               Top Honor for Profiles in Achievement for
               Center SalesManager - Ron Volinski in 2011
              Profiles in Achievement for
               Client Advisors Al Smith, Ann Marie Lang and Mike Reed in 2013
Century Volvo
2009: Ranked #4 in our division for total CSI in our market

2003-2004, 2006-2009: Received the "Volvo Presidents Club" award for six years based on CSI and market share

1994-2000: Received the "Volvo Dealer of Excellence" award for seven years in a row
Century Buick
2001-2009: Received the "Buick Mark of Excellence" award for nine years in a row

2000-2004: Selected as "Buck Center of Excellence" for five years in a row

1989-2001: Selected as "Best Buick in Class" for thirteen years in a row

1994-1998: Selected as "Buick Select Sixty Dealer" for five years in a row
Century Isuzu
1993-2003: Received the "Isuzu Service Master Plus" award for eleven years in a row
Century Porsche
2009: Ranked #1 in service CSI in our region
# 1 in region for CSI in 2012

Top 30 dealers in the nation for 2010-2011

Top 30 dealers in the nation for 2011-2012

Land Rover Huntsville

2011, 2012 & 2013: Received "Land Rover Pinnacle Club Retailer Excellence Award" for outstanding sales, service and customer satisfaction. This is the 3rd year Land Rover Huntsville has won this award. WE ARE ONE OF ONLY FOUR DEALERS NATIOWIDE TO WIN BOTH AWARDS
Jaguar Huntsville
2012 2013
: Received "Pride of Jaguar Retailer Excellence Award" for outstanding sales, service and customer satisfaction. This is the 1st year Jaguar Huntsville has won this award .
Learn Why Volvo Drivers from Huntsville, Madison AL, Athens AL, Decatur AL and Hartselle Choose to do Business with Century Volvo
Let's break down just how much we have to offer here at Century Volvo, so you can feel more at home from the second you walk through the doors to our showroom.
Not only do we offer an awesome array of excellent new Volvo models on location, but we also have a huge inventory of used cars at our dealership as well. When you select the perfect model for your automotive needs, our finance team will work with you to find the best way to make you a car owner, on the best possible car loan and Volvo lease for your specific needs.
Once you're an owner, Century Volvo is still here to help you have the best experience possible. Our customers love our on-site car service and maintenance staff and department, where highly trained technicians use the best equipment and only certified Volvo parts on your car, keeping your model running smoothly and reliably for years to come.
For the entire car buying and ownership process, Century Volvo is here to help. If you are interested in more information about any of the products or services we have to offer here, come in and visit us soon! We are located at 3800 University Drive N.W. Huntsville, Alabama, and proudly serve drivers from Madison AL, Athens AL, Decatur AL and Hartselle as well.
Serving the Huntsville area, Century Volvo, located at 3800 University Drive N.W. in Huntsville, AL, is your premier retailer of new and used Volvo vehicles. Our dedicated sales staff and top-trained technicians are here to make your auto shopping experience fun, easy and financially advantageous. Please utilize our various online resources and allow our excellent network of people to put you in your ideal car, truck or SUV today!